We rent water crafts from three locations in Estacada, Oregon. Our Estacada Lake rental sites offer kayaks and  stand-up paddle boards at Timber Park and Milo McIver State Park. Our store in downtown Estacada offers inflatable kayak, paddle board, raft, river tubes, dry suits, wetsuits, paddling accessories and disc golf rentals. 


Seriously for only $20 you can get out on the water and relax or paddle your daily stress away.  The river is a calming force that will give you a peaceful journey through nature.  We want to give everyone a chance to experience what we fell in love with, the river!   Even if you are a first timer or just want to have a boat waiting on the water for you we have rental offerings for as low as $10 per hour.   We also have daily, weekend and weeklong rentals from our Downtown Estacada Location. 
Downtown Estacada – Milo McIver State Park – Timber Park
Milo McIver State Park Rentals
Take Entrance Rd, off Springwater Rd
Downtown Estacada
Outpost Store & Rentals
360 SW Zobrist St. Estacada, Oregon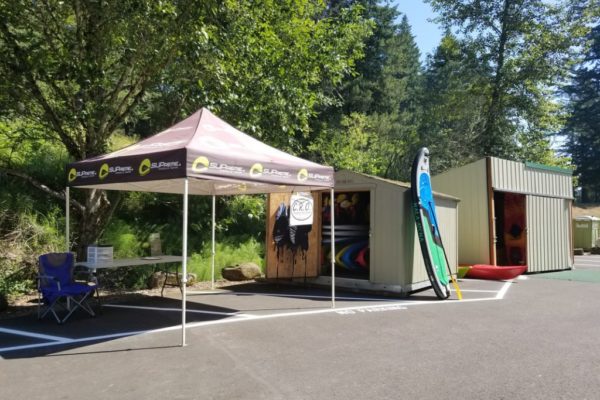 PGE Timber Park Rentals
30878 NW Evergreen Way 
Estacada, OR 
We Are All About Estacada Oregon!
Estacada is the special place we call home.  
If you are new to  Estacada check out the mobile app that has a river trail map along with many fun things to do in the area.  Visit Estacada.mobi
While your here you might visit the food carts next door to our paddling store or have a cold beer at our friends ale house.
We hope you enjoy Estacada!